Personal Real Estate Corporations
As of October 1, 2020 (Royal Assent given, March 4, 2020), it became possible for salespersons or brokers (Realtors®) in Ontario to form their own Personal Real Estate Corporation or PREC pursuant to the Trust in Real Estate Services Act, 2020 (TRESA) and Ontario Regulation 536/20.
PRECs are permitted to directly receive brokerage remuneration that is earned by the registrant (salesperson or broker). This remuneration may be invested passively or used to facilitate other business activities while at the same time being able to benefit from the estate planning and tax advantages specifically available to corporate entities (more on this to come in Part Three of this blog series).
A PREC is a unique type of corporation which I will discuss by answering several key questions.
How do Personal Real Estate Corporations differ from traditional corporations?
PRECs must be incorporated under the Business Corporations Act (Ontario, OBCA) or continued to the jurisdiction of Ontario if incorporated in another province or federally.  Once incorporated the PREC and/or the Realtor will be overseen by the Real Estate Council of Ontario (RECO) and subject to discipline for misconduct or breaches of TRESA. Unlike typical corporations the management and supervision of the PREC may not be delegated (i.e., no unanimous shareholder agreement restricting the rights of the director/registrant).  A PREC also differs with respect to who may own the voting/equity shares of the corporation which must be the controlling shareholder, being the registrant salesperson or broker.
How are Personal Real Estate Corporations structured under the OBCA?
Pursuant to Section of O. Reg. 536/20 the salesperson or broker must serve as the Sole Director and Officer of the corporation.  As mentioned above the controlling shareholder will own the voting/equity shares of the corporation either directly or indirectly through a holding company.  "Family members" of the salesperson or broker may own the non-voting/non-equity shares of the corporation.  It is also possible for a Trustee to hold non-voting/non-equity shares for children of the salesperson or broker as minor beneficiaries. (Refer to diagram below)
It is important to note that under the regulation the definition of "family member" is expanded to include the controlling shareholder's parent or child as well as their spouse. A parent may include someone who has demonstrated a settled intention to treat the controlling shareholder as their child.  A child may also include those individuals which the shareholder demonstrates a settled intention to treat as their own child. A spouse may include not only a person with whom they are legally married, but also someone with whom the shareholder is living in a conjugal relationship.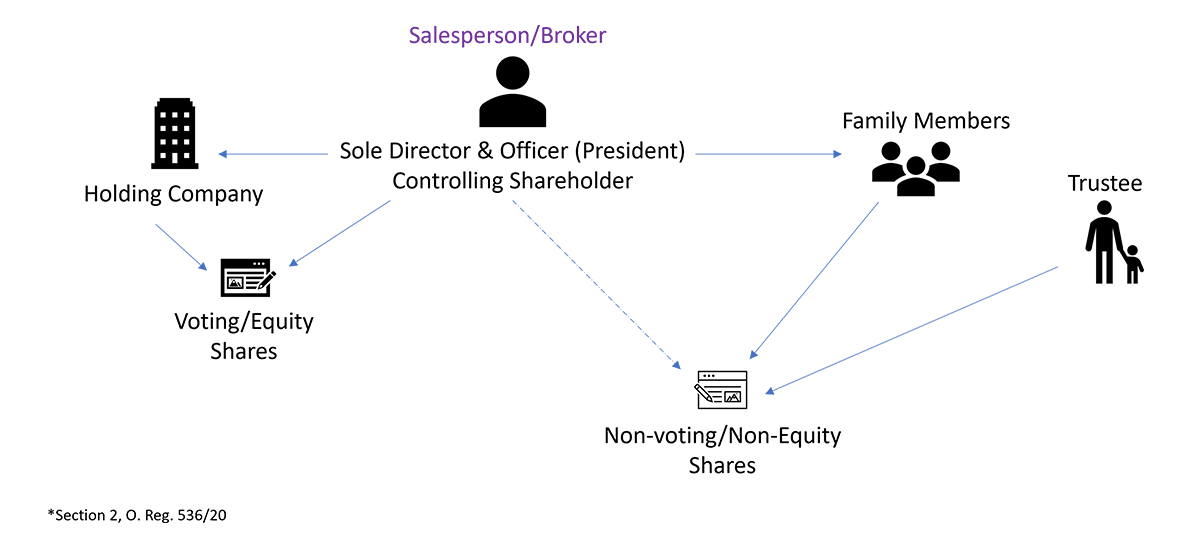 How are PRECs named?
As PRECs do not fall under the standard definition of a Professional Corporation defined by Section 248(1) of the OBCA, they are not subject to the same naming requirements.  As such, there are no specific naming requirements.  One may simply use a person's first and last name followed by the words "Personal Real Estate Corporation".
Once a name is chosen a Newly Upgraded Automated Name Search (NUANS) will need to be conducted in order to ensure that the name is distinct and not confusingly similar to other pre-existing corporations. This type of search is a requirement for all corporations that do not wish to be known simply by a numbered name (e.g. 12345678 Ontario Inc.).
The chosen name must also comply with the general requirements set out by the OBCA and Ontario. Regulation 398/21, and may not in any way suggest that it is a brokerage.
How long does it take to set up?
PRECs can typically be incorporate within one to two business days of receiving the applicable information from the client.
Now that I have covered the basic structure and setting up of a PREC from a legal perspective, stay tuned for Part Two where I discuss more key features about PRECs and Part Three for when and why a Salesperson or Broker might want to form a PREC.
Helpful Resources:
Ontario Real Estate Association (OREA), Personal Real Estate Corporations: https://www.orea.com/Political-Advocacy/Personal-Real-Estate-Corporations
Real Estate Council of Ontario (RECO), Personal Real Estate Corporations: https://www.reco.on.ca/precs-ads/